Lifestyle
This time try gram flour at home, better taste and also beneficial for health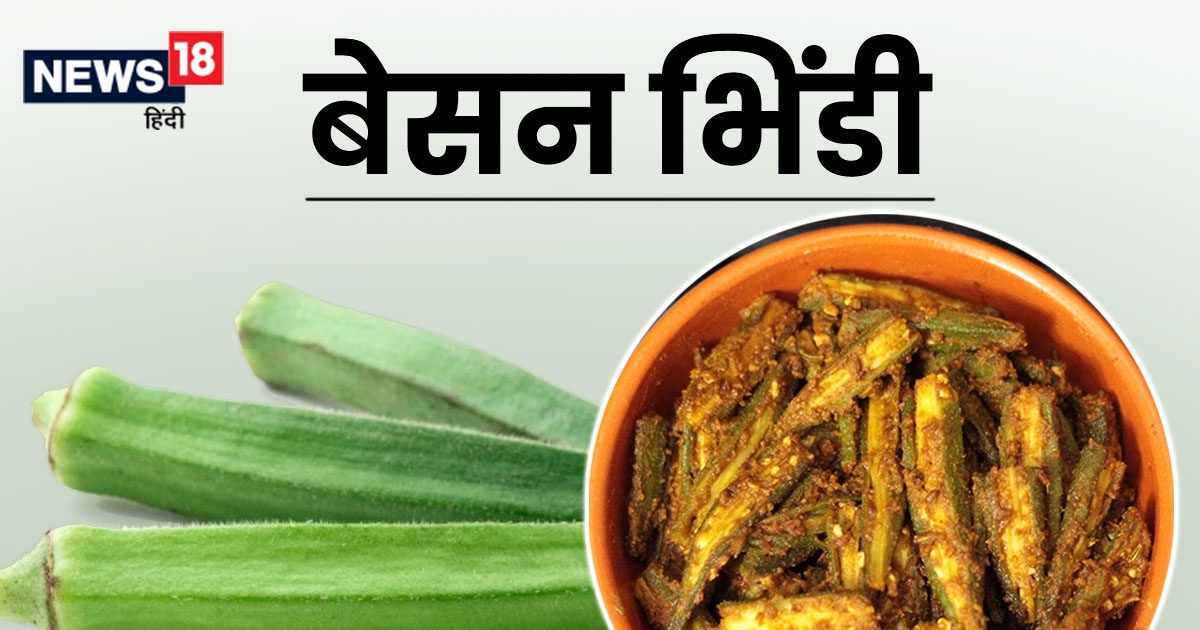 highlights
Apart from being delicious, bhindi curry is also beneficial for health.
Rajasthani style crispy gram flour bhindi sabzi doubles the taste of the dinner.
Gram Flour Recipe: If you are looking for something in food which is tasty as well as beneficial for health, then okra can be a better option. People like bhindi curry because of its excellent taste. Although bhindi is prepared and eaten in many ways in most of the homes, but have you tasted the taste of gram flour bhindi. Let us tell you, the crispy Besan Bhindi curry of Rajasthani style is enough to double the taste of your dinner. As much as this vegetable is tasty to eat, it is equally beneficial for health. If you want to make this dish, then you can follow the easy tips given here. Let's know the easy way to make it.
Ingredients to make Besan Bhindi
Bhindi – 1/2 kg
Gram flour – 3 tbsp
Grated onion – 2-3 tbsp
Ginger-garlic paste – 1/2 tsp
Cumin – 1 tsp
Fennel seeds – 1 tsp
Asafoetida – 1 pinch
Garam masala – 1/4 tsp
Coriander leaves – 2-3 tbsp
Turmeric – 1/4 tsp
Red chili powder – 3/4 tsp
Coriander powder – 1/2 tsp
Cumin powder – 1/4 tsp
Dry mango – 1 tsp
Oil – 3 tbsp
salt – as per taste
How to make Besan Bhindi
To make crispy bhindi of gram flour, first of all take bhindi in a utensil and wash it thoroughly. When the water gets squeezed out, then cut them lengthwise. Now add turmeric, coriander powder, red chili powder, cumin powder, dried mango powder and a little salt in a bowl and mix all the spices. Now put all these spices in a big utensil and put chopped okra in it. After coating all these ladyfingers, keep them aside for 10 to 15 minutes.
read this also: Feed homemade raw mango jelly to children, it will be ready in minutes, know the recipe
Now put oil in a pan and keep it on low flame to heat. When the oil is hot, add cumin, fennel and a pinch of asafoetida and fry it. Now add grated onion and ginger-garlic paste to it and fry it. After some time add 2-3 tbsp gram flour to these spices and fry them. Keep in mind that gram flour will be fried only for about 5-6 minutes. For this, one has to wait till the gram flour starts giving fragrance.
read this also: Pizza Toast Sandwich will make children's Sunday special, everyone will like the taste, follow easy breakfast recipe
After this, add the masala coated bhindi to this onion-gram flour mixture and mix it well. After this cover the pan and let the bhindi cook for 10-12 minutes. Keep in mind that you have to keep stirring the bhindi in between. By doing this, lady finger is saved from burning. When the bhindi gets cooked and becomes crispy, garnish it with garam masala and green coriander leaves and after that turn off the gas and remove the wok. Now this tasty vegetable can be served with roti, paratha or rice.
,
Tags: Food Recipe, healthy food, Lifestyle
FIRST PUBLISHED : June 05, 2023, 19:00 IST