Lifestyle
When is Ashada Amavasya? The day to remove the displeasure of ancestors, know the auspicious time for bathing and donating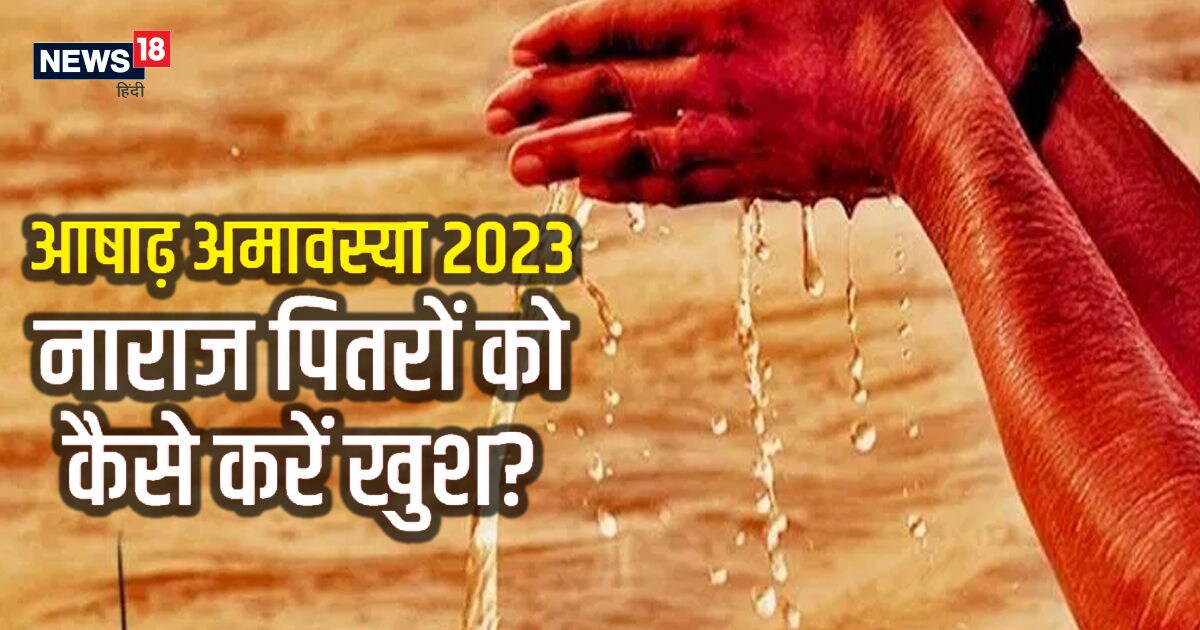 highlights
Angry ancestors are celebrated on Amavasya Tithi, due to which Pitra Dosh ends.
Amavasya Tithi is starting on 17th June Saturday at 09.11 am.
Ashadh Amavasya is celebrated on the new moon day of the Krishna Paksha of the month of Ashadh. On this day, after bathing in the holy rivers, there is a ritual of worshiping the Sun and making donations. Angry ancestors are celebrated on Amavasya Tithi. Remove their displeasure and take blessings so that the family can progress. When ancestors are angry, there is Pitra Dosh in that house. This stops the progress of the whole family. Astrologer of Tirupati Dr. Krishna Kumar Bhargava Do you know when is Ashadh Amavasya? What is the auspicious time for bathing and donating? How can we appease angry ancestors?
Ashadh Amavasya 2023 Tithi Muhurta
According to the Panchang, the Amavasya Tithi of the Krishna Paksha of the month of Ashadha begins at 09.11 am on Saturday, 17th June. Ashadh Amavasya Tithi will be valid the next day on Sunday, June 18 at 10.06 am.
On the basis of Udayati, Ashadh Amavasya is on 18th June. Bath donation and worship will be done on that day itself. Before that, there will be Darsh Amavasya of Ashadh on 17th June.
Read also: Mercury transit today, Gajakesari Yoga will strengthen the economic side of 3 zodiac signs, there will be progress in career
Ashadh Amavasya 2023 Snan-donation auspicious time
On June 18, the auspicious time for Ashadh Amavasya bath and donation is from 07:08 am to 12:37 pm. In this too, from 08.53 am to 10.37 am, there is Labh-Unnati Muhurta, while from 10.37 am to 12.37 pm, there is Amrit-Sarvottam Muhurta.
Ashada Amavasya 2023 Pitar Puja Timings
On the day of Ashadh Amavasya, the time for worshiping ancestors is from 11:00 am to 02:30 pm. During this time, you should perform Shradh, Pinddaan, Tarpan etc. for the sake of the ancestors.
Read also: Chor Panchak starts from June 9, on that day Bhadra's shadow also, fear of loss of money by doing 3 things
How will ancestors be happy on Amavasya?
On the occasion of Ashadh Amavasya, wear clean clothes after taking a bath. Then do tarpan with water to please the ancestors. During that time wear Kush's sacred thread in your hand. Offer tarpan to ancestors with sesame seeds and water. There is scarcity of water in Pitra Lok. The forefathers are satisfied and give blessings on offering water. This removes Pitra Dosh.
Significance of Amavasya
On the day of Ashada Amavasya, you should worship Aryama, the god of ancestors. He is the brother of Indra. Worshiping Aryama on Amavasya also pacifies Pitra Dosh. On the new moon day, after bathing, worship the Peepal tree and offer water to its root. This gives the blessings of the gods.
,
Tags: astrology, Dharma Aastha
FIRST PUBLISHED : June 08, 2023, 10:07 IST