russia ukraine news
The case of treason of Medvedchuk and Kozak has to go to court in May, – Venediktov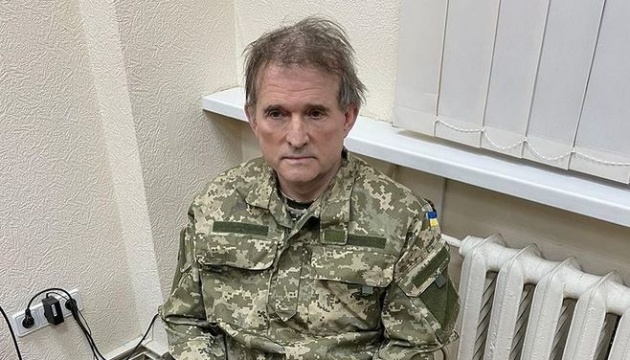 The case of treason, involving MPs Viktor Medvedchuk and Taras Kozak, could go to court in May.
Prosecutor General Iryna Venediktova stated this on Ukrainian TV channels, Ukrinform reports.
She reminded that there are several cases against Medvedchuk, including the case in which the People's Deputy was suspected of articles 111 (treason) and 438 (war crimes) of the Criminal Code in May last year.
"It's just about the looting of Crimea, and about new projects, in particular, the project" Ray "(which was planned – ed.) In order to come here this" Russian culture "and this" Russian world ". Therefore, I am currently looking at the chronology of these events, and in principle I am very happy with how we have progressed. Here the investigation is over, now (ed.) We are getting acquainted with the materials of the defense, we are a civilized state. In May, this case will go to court, and we will be participants in the trial, "the prosecutor general said.
According to Venediktov, in another case, over coal, the investigation is still ongoing, and law enforcement officers are moving there.
"And a few more cases (concerning Medvedchuk – ed.), Which I will tell later," she said.
As reported, on May 11, 2021, the Prosecutor General signed a report on the suspicion of MPs Medvedchuk and Kozak in treason and an attempt to plunder national resources in the Crimea.
The investigation believes that Medvedchuk negotiated with the aggressor state to re-register the Hlyboka deposit in the Black Sea, 75 km from Feodosia, and to extract minerals that are Ukraine's national resource.
In addition, Medvedchuk is suspected of treason (passing secret information about the military unit of the Armed Forces to the aggressor).
On May 13, 2021, the Pechersk District Court of Kyiv chose Medvedchuk as a measure of restraint in the form of 24-hour house arrest and ordered him to wear a means of control – an electronic bracelet.
The court declared Kozak wanted.
On August 20, 2021, Venediktov announced the completion of the investigation into the case of treason of people's deputies from the "Opposition Platform – For Life" Viktor Medvedchuk and Taras Kozak.
On February 27, 2022, it became known that Medvedchuk, suspected of treason and facilitating the activities of a terrorist organization, had escaped from house arrest.
On April 12, Medvedchuk was detained as a result of a special operation conducted by the Security Service of Ukraine. Lychakiv District Court of Lviv chose a measure of restraint in the form of detention.
The Lychakiv District Court also arrested 154 movable and immovable property of Medvedchuk and his wife Oksana Marchenko.
President Volodymyr Zelensky has offered Russia to exchange Viktor Medvedchuk for Ukrainian citizens in Russian captivity.