russia ukraine news
The fiercest battles are taking place near the city of Ivankiv, as well as in Gostomel, Vorzel and Bucha in the Kyiv region – Arestovych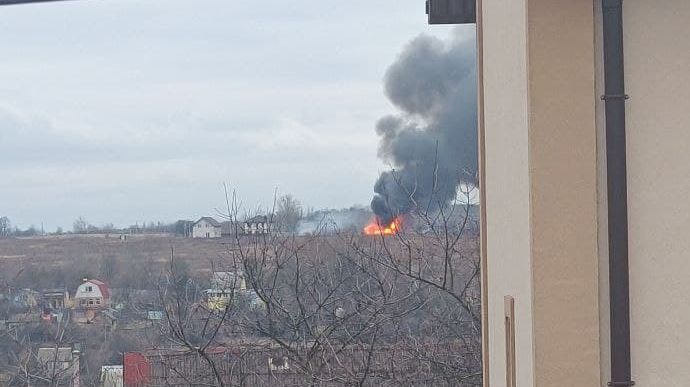 The fiercest fighting is taking place near the town of Ivankiv, as well as in Gostomel, Vorzel and Bucha in the Kyiv region.
This was announced during a briefing by the adviser to the head of the President's Office Oleksiy Arestovych, Ukrinform reports.
"The biggest danger is developing on the part of the city of Ivankiv – the North-West of Kyiv. There are battles in the settlements of Gostomel, Vorzel and Bucha, "he said.
Currently, the enemy is trying to attack in this area, but the Ukrainian military airborne units set up a reliable barrier and with the help of "Javelins" destroyed several enemy helicopters and at least a column of military equipment, said Arestovich.
Kyiv is currently preparing for defense. The OP urges to enlist in the ranks of the city's defense.
In the Chernihiv region, our troops stopped the enemy. Currently, no active action is being taken there. The same in the Sumy region. The enemy is regrouping and preparing to attempt a further offensive, but there is a reliable defense, according to Arestovich.
Kharkiv is being held. Defenders of the city repulsed another attack in the morning.
The entire environmental protection zone is also maintained. The offensive on this section of the front is not actually being conducted, but enemy artillery is working, and enemy sabotage groups are passing by our defenses. Many of them were neutralized and taken prisoner.
On the outskirts of Melitopol there are Russian troops who have passed from the Crimea, but the rest of the city is held by the Ukrainian military, which holds the defense and does not allow to move towards Mariupol.
Near Kherson, Russian troops are looking for ways to cross the Dnieper after the St. Andrew's Bridge was destroyed. Our troops are defending on the right bank.
In this part of the defense in the OP consider the situation manageable. "It is impossible to say that the enemy has broken through or is advancing further," Arestovich said.
On February 24, Russia struck Ukraine and launched a war. On the morning of February 24, the Verkhovna Rada approved a decree of President Volodymyr Zelensky on the imposition of martial law throughout Ukraine.