russia ukraine news
The State Duma proposed to seize part of Lithuania for the sake of a corridor to Kaliningrad – The Moscow Times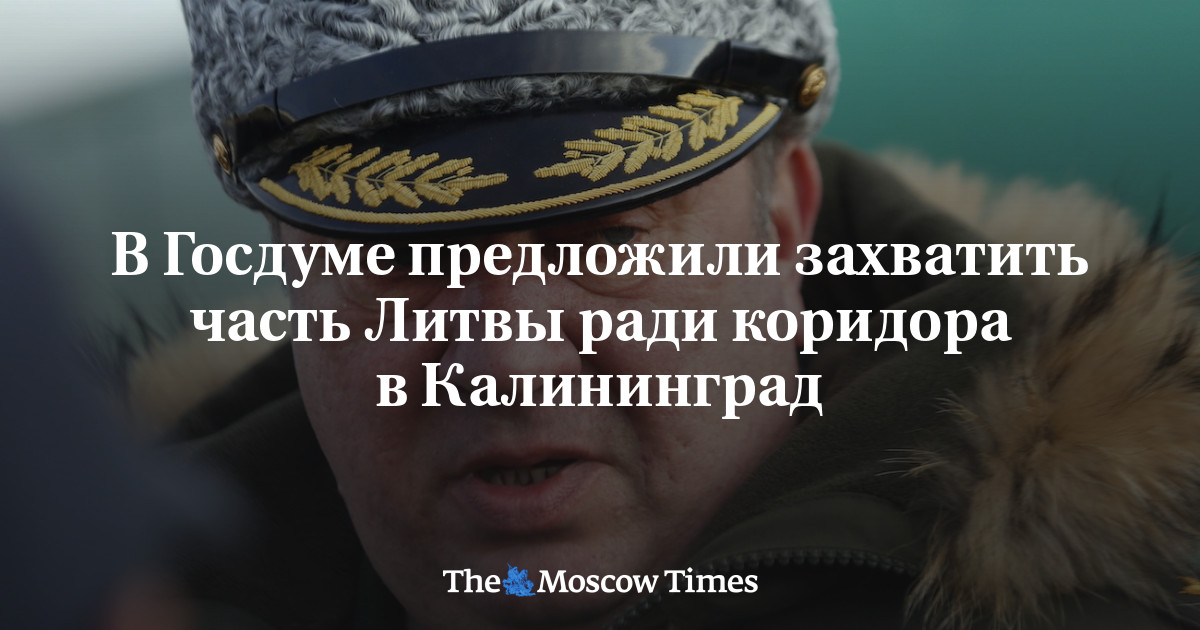 The problem of supplying the Kaliningrad region, which is cut off from cargo communications with Russia, can be solved by military means, Lieutenant-General Andrey Gurulev, a member of the State Duma Defense Committee, believes.
Russia should place a grouping on the border of Lithuania with Belarus, which will break through the corridor to Kaliningrad, Gurulev said in the program of Vladimir Solovyov on the Russia-1 channel. Proposals to disconnect Lithuania from the unified energy supply system (BRELL rings), according to Gurulev, will not create "critical" problems for Lithuania.
"A group should be created on the border with Belarus, which will be able to create a corridor for supplying Kaliningrad," the deputy suggested. "And let those who wave the fifth article[of the NATO Charter, on collective defense — dir]roll it up into a tube and stuff it into who knows where."
According to Gurulev, the decision to cut off Kaliningrad from cargo, under which half of the range of goods fell, does not come from Lithuania. "No one asks them. This is the problem of their owners," said the deputy, former deputy commander in chief of the Southern Military District. According to him, having examined the "critical" facilities, he came to the conclusion that at least 40% of the oil "is processed in Holland on a narrow penny" that can be destroyed "with one torpedo." "And when the tap closes from here, it will collapse there, no matter how puffed up everyone is," Gurulev said.
Lithuania, we recall, since June 18, has limited the transit to Kaliningrad of goods falling under EU sanctions. Among them are building materials, cement and metals. The Kremlin called the decision illegal and responded with a series of exercises by the Baltic Fleet and ground forces that trained to fire the Grad and Uragan launchers twice a week.
NATO interpreted the Russian maneuvers as practicing a missile attack on the Baltic countries, sources in the alliance told Iltalehti. Chief of the General Staff of the Estonian Ministry of Defense Kusti Salm said that in addition to the exercises, Russian helicopters violated the country's airspace several times. The NATO military believes that the "invasion" of helicopters is also part of the training for a possible attack, the source told lltalehti.
Lithuanian Defense Minister Arvydas Anusauskas said that "Russia can resort to provocations" in response to the restrictions on Kaliningrad transit, since the Russian army is led by "idiots." Vilnius' NATO allies are monitoring the situation in the region and are ready to respond, he stressed.