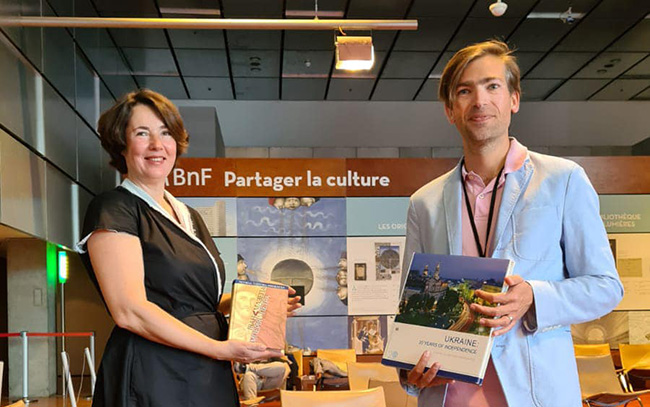 As part of the initiative of the First Lady of Ukraine Olena Zelenska "Ukrainian Bookshelf", the wife of the Ambassador of Ukraine to France, Natalya Omelchenko, handed over 60 copies of literature in Ukrainian, English and French to the François Mitterrand National Library.
The Embassy of Ukraine in France reports this on its Facebook page, reports Ukrinform.
It is noted that the books were handed over to the head of the world literature department of the literature and arts department of the François Mitterrand National Library, Clément Frélicher-Che. Now these editions will replenish the shelves of the National Library named after F. Mitterrand and the University Library of Languages ​​and Civilizations.
Library named after Thanks to its mission of collecting, archiving and restoring the heritage of previous collections and new donations, F. Mitterrand has more than 220,000 printed books, which gives it the status of one of the largest collections in the world.
The University Library of Languages ​​and Civilizations stores collections of books from Africa, Asia, the Middle East, Central and Eastern Balkan Europe, there are about 1.5 million documents in 350 languages.
"Ukrainian books transferred to these libraries will become part of their collections," the message reads.
The wife of the ambassador of Ukraine agreed with Frélicher-Che about further cooperation in the direction of expanding the Ukrainian book fund of France, the message states.
One by one, "Ukrainian bookshelves" are being opened in the libraries of Europe.