Sports
IND vs BAN: Umpires came under the target of Bangladeshi fans, questions are being raised about these three decisions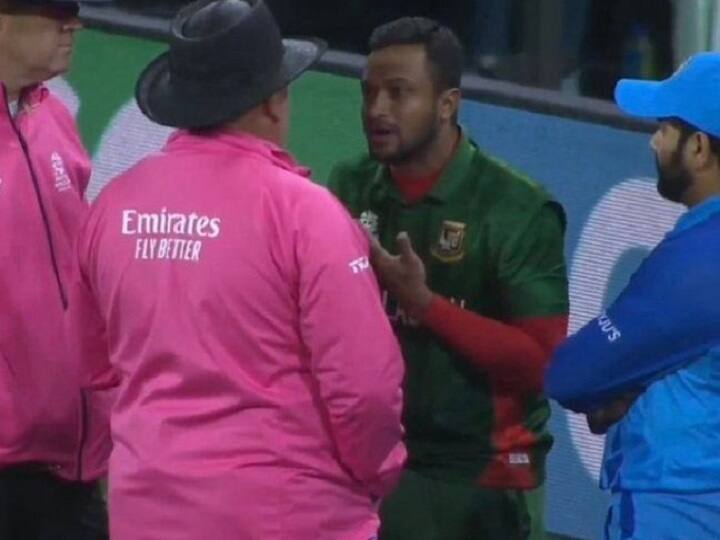 T20 World Cup 2022: Bangladesh suffered a very close defeat against India on Wednesday night in the T20 World Cup 2022 (T20 WC 2022). At one time this match was completely in the possession of Bangladesh, but this match was full of ups and downs, in the last, Team India won by 5 runs. The match was over but during this match some decisions of the umpire came into controversy. There were three such moments during the entire match, when the decisions of the umpire caused damage to the Bangladesh team. Now Bangladeshi fans are accusing the umpire of bias.
Verdict No.-1: Hasan Mahmood was bowling in the 16th over of India's innings and Virat Kohli was standing in front of him. Virat felt that Hasan had bowled two bouncers in the same over, on which he demanded a no-ball from the umpire. The umpire then signaled a no-ball. Bangladesh captain Shakib Al Hasan also started arguing with umpire Erasmus about this.
New ICC Rule "If Kohli demands a No-ball or Wide, Umpire must give No-ball or Wide"🙌#INDVsBNG #دزبان_گھٹیا_کامران_شاہد pic.twitter.com/buW7l283hh

— اکٹر م نوازخان (@FahimNa46488419) November 2, 2022
Decision No.-2: In the 7th over of Bangladesh's innings, when Litton Dan and Shanto were taking runs, Virat Kohli made a 'fake throw'. According to the rules, such actions are considered illegal in order to disturb the concentration of the batsmen. A penalty of 5 runs is given on them. But the umpire did not take any action on it. After the match, Bengali batsman Nurul Hasan raised the issue.
Fake fielding by Virat Kohli, umpire don't give penalty 5 run to Bangladesh.#ShakibAlHasan liton das #cheating #RohitSharma #ViratKohli #umpires pic.twitter.com/kaibAfsb8K

— kazi Mahmud (@hasanmahmud170) November 3, 2022
Verdict No.-3: Bangladesh were winning by 17 runs when the match was stopped due to rain. When the rain stopped, the umpire decided to resume the match. Here Shakib looked at the ground and found that it was still wet, so he kept talking to the umpire for a long time. Maybe he didn't want to play on the wet ground. Captain Rohit Sharma was also involved in the debate between the umpire and Shakib. The match started in the last and due to wet wicket, Litton Das slipped his leg while taking a run and he was out. This was the turning point of the match and the Bangladesh team lost the match losing back to back wickets. The fans are now taking out anger on the umpire regarding this.
Itne #Cheating to hum Exam may nhi karty thy jitne ye umpire Ground may kar rhy pic.twitter.com/BhXo3F63yV

— Mustafa Shaikh (@Mustafa75944971) November 2, 2022
Read also…
T20I Rankings: Pakistan's dominance ends, Suryakumar becomes No.1 batsman; Virat Kohli also in top-10
T20 World Cup 2022: Shahid Afridi's retort on Gautam Gambhir's statement, said – 'He will also go home'