Sports
India coach Chhetri said, we are confident, but not complacent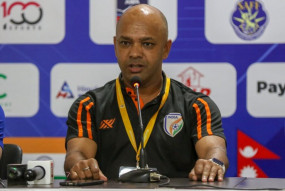 Digital Desk, Kathmandu. The Indian women's team will take on Bangladesh in their final group league match of the SAFF Women's Championship 2022 on 13 September, after scoring nine goals from Maldives in the first semi-final, and scoring nine goals in the second match.
Head coach Suren Chhetri, however, is not satisfied with the consistent victories against Pakistan (3-0) and Maldives (9-0).
"Winning by a big margin always gives confidence. But we should not be complacent. Instead, we look forward to the next one with the same winning mindset, and top the group.
Suren said, the Maldives match is now a past. We have shifted our focus from Bangladesh match. I hope that like in the last match, the girls will play as a team and focus on work.
The last time India met Bangladesh in the SAF Women's Championship semi-finals in 2019, the Blue Tigresses emerged victorious 4-0.
The coach said, "Bangladesh are a good team and they have played good football against Pakistan and Maldives. We respect him as an opponent and will take the field with an aggressive mindset.
The Indian women's team will be excited about the match after a two-day break, and the coach said the focus is on keeping the morale high and working out some strategy on the field.
Captain Ashalata Devi believes that every player is a leader when he is on the field. Ashalata said, every player should act like a leader on the field. This is how you gain confidence. Bangladesh is a tough team. I have told the girls to forget the past victories, focus on the team combination and work together.
(IANS)
Disclaimer: This is a news published directly from IANS News Feed. With this, the team of bhaskarhindi.com has not done any editing of any kind. In such a situation, any responsibility regarding the related news will be of the news agency itself.