Sports
Karunaratne had to break the rules during T20 WC, Sri Lanka imposed one year ban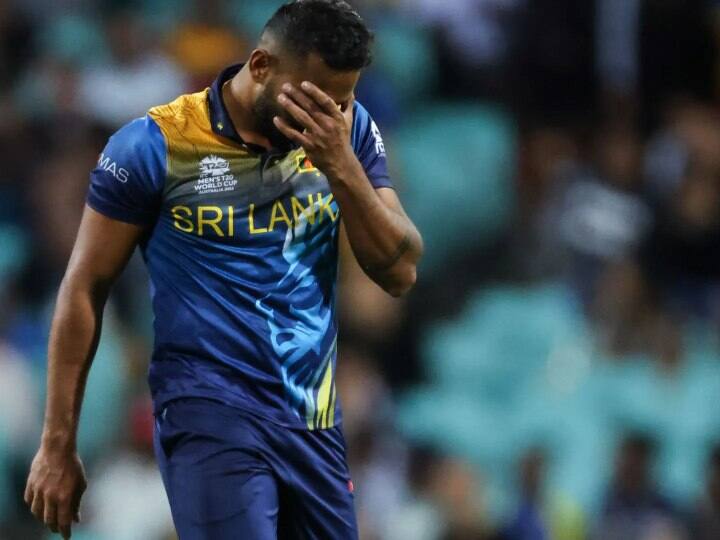 Sri Lanka Ban Chamika Karunaratne: All-rounder Chamika Karunaratne has been handed a one-year suspended ban from all forms of cricket for breaching the contract by Sri Lanka Cricket (SLC) during the ICC T20 World Cup in Australia. Karunaratne has been found guilty of all the charges leveled against him, including breach of several clauses in the player agreement. The SLC said that a disciplinary inquiry was conducted by a three-member inquiry panel into the alleged breach by the nationally contracted player.
Earlier reports indicated that Karunaratne had allegedly visited a casino during the World Cup. However, when questioned by IANS, the SLC did not reveal the exact allegations against the bowling all-rounder.
The SLC said, "Considering the seriousness of the breaches committed by Karunaratne, the inquiry panel has, by its report, recommended to the Executive Committee of the SLC a stern warning to the player to desist from further breaches and recommended a punishment which would be equivalent to Rs. There will be no impact on his cricket career."
Following the findings and recommendations of the inquiry panel, the Executive Committee of SLC imposed a one-year ban from participation in all forms of cricket, and the said ban was suspended for a period of one year. Karunaratne has also been fined $5,000.
News Reels
Karunaratne has also been dropped from the ODI squad against Afghanistan in the three-match series starting November 25 in Kandy. Another injured batsman, Danushka Gunatilka, was remanded in a court case in Sydney over an alleged sexual harassment complaint by a woman he interacted with on a dating app. Although granted bail, Gunatilaka is barred from leaving Australia.
A breach in player agreement clause during the #T20WorldCup in Australia has seen the player handed a one-year ban by Sri Lanka Cricket 😮

Details 👇https://t.co/Yvlnqb8Ug9

— ICC (@ICC) November 23, 2022
Also read: FIFA WC 2022: Argentina manager Scoloni reacts to the defeat from Saudi Arabia, told what will be the plan in the next match