Sports
Messi's magic shown in the quarter-finals, beat Netherlands in the penalty shootout, reached the semi-finals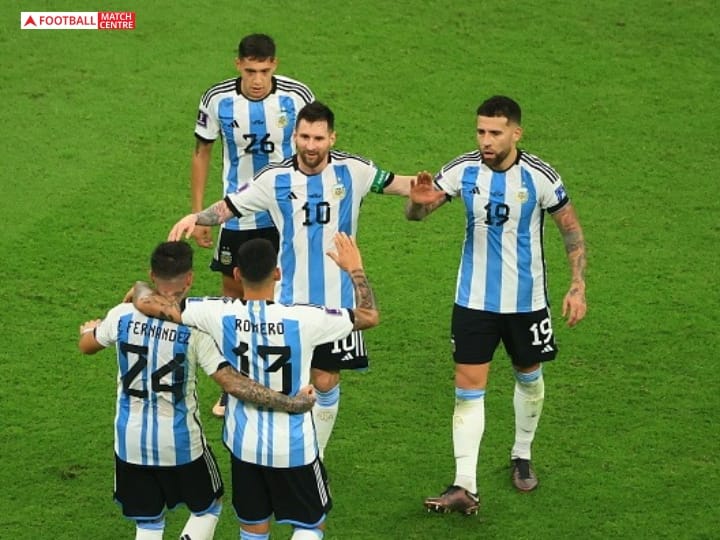 Argentina vs Netherlands: In the second quarter-final match of the Football World Cup 2022 being held in Qatar, Argentina has made it to the semi-finals by defeating the Netherlands in the penalty shootout. This match between both the teams has been very exciting. Argentina and Netherlands were tied at 2-2 goals till the scheduled time of the match. Neither team could score a goal even in extra time. After which its decision came out through penalty shootout. In this penalty shootout, Lionel Messi's Argentina defeated the Netherlands 4-3.
Messi showed magic
In this quarter-final match, the Argentine team scored its first goal in the 35th minute. For the team, Nehuel Morina scored a brilliant goal on Messi's pass to give his team a 1-0 lead. After this, in the 73rd minute of the match, Messi's magic was also seen by the fans, Messi scored a penalty and gave the team a 2-0 lead.
After a 2-0 lead, everyone felt that Argentina would easily win this match, but Beghorst, who came as a substitute, overturned the whole match. Actually, he scored the first goal for the Netherlands in the 83rd minute. After this, the referee gave 10 minutes of injury time, in which he surprised everyone by scoring a goal in the last 10th minute of injury time to equalize the score at 2-2. After this, both the teams were given extra 30 minutes, although neither team could score in this half an hour.
The match was so exciting that it was decided in the penalty shootout. In the match, Argentina's goalkeeper Amy Martinez showed a great game and stopped the shots of Netherlands captain Virgil Van Dyck and Steven Berghouse. For the Netherlands, the goals were scored by Tiune Koopmeeners, Bout Beghorst and Luuk de Jong. On the other hand, Lionel Messi, Leonardo Paredez, Gonzalo Montial and Lautaro Martinez were successful in scoring goals for Argentina. On the strength of these 4 players, Argentina was able to defeat the Netherlands 4-3 in the quarter-finals.
News Reels
Read also:
FIFA WC 2022 Quarter Final: Croatia beat Brazil in penalty shootout, made it to the semi-finals for the second time in a row