Sports
Neeraj Chopra made it to the final with a throw of 88.39m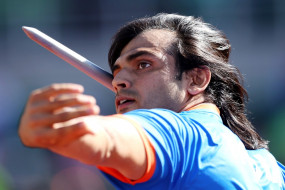 Digital Desk, Eugene (Oregon). In the World Athletics Championships held in Eugene, USA, Indian star Neeraj Chopra has reached the final after throwing 88.39m javelin in Round 1 and finishing on top of the Group A qualification round. In the Oregon 2022 Men's Javelin Throw Competition, players have to cover the qualifying cut of 83.50 metres, but Neeraj threw the javelin much farther than that to secure his place in the finals.
Neeraj Chopra had set a new national record earlier this year by throwing the javelin to a distance of 89.94 meters for a silver medal in the Diamond League in Stockholm. He set the tone in Group A with a throw of 88.39m in his first attempt. Neeraj Chopra has made this third best throw record in his career.
Neeraj, the 2017 Tokyo Olympic champion, had failed to pass the qualifying round in his maiden World Championships. He then missed the 2019 World Championships in Doha due to injury. Tokyo silver medalist Jacob Wadledge was the only javelin thrower in Group A to cross the qualifying mark in his debut with a javelin throw of 85.23 metres.
Later in the day, Neeraj's colleague Rohit Yadav also joined the defending Olympic champions in the final from Group B. With an impressive throw of 80.42m, Rohit finished 6th in his group and 11th overall and made 12 to the men's final field. Before Neeraj and Rohit, Davinder Singh Kang was the only Indian male player to qualify for the World Championships. In the year 2017, he finished 12th in the Kong World Championships held in London.
Meanwhile, reigning world champion Andersen Peters of Grenada topped Group B and topped the final list of qualifiers with a throw of 89.91m. But 24-year-old Neeraj Chopra pushed him to the second spot with his stellar performance.
Source: IANS
Disclaimer: This is a news published directly from IANS News Feed. With this, the team of bhaskarhindi.com has not done any editing of any kind. In such a situation, any responsibility regarding the related news will be with the news agency itself.
,