Sports
PM Modi told the players who returned from Birmingham, 'The golden era of Indian sports is knocking'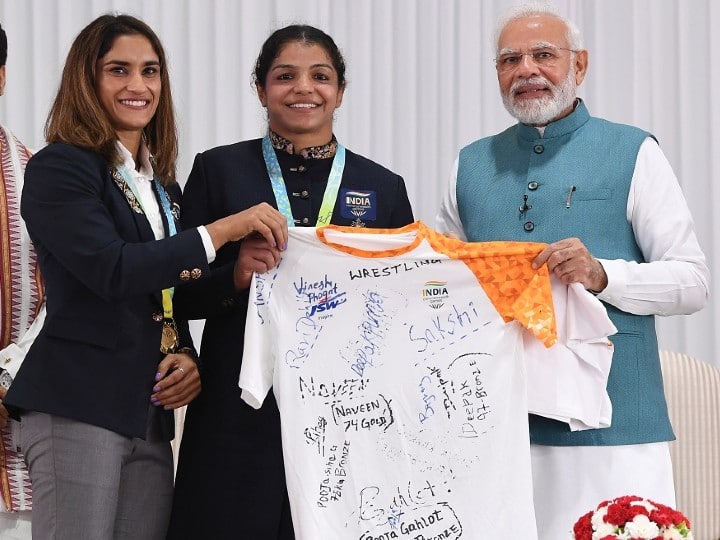 PM Modi Meets Indian Athletes: Prime Minister Narendra Modi met Indian athletes who returned from the Commonwealth Games 2022 in Birmingham. PM Modi hosted the Indian contingent at his residence. During this, he told the players that the golden era of Indian sports is knocking and now do not sit silent after being satisfied with good performance.
While addressing the players, PM Modi said, 'All of you were competing there, but due to the difference of time, crores of people in India were raffling. The countrymen used to keep their eyes on your every action throughout the night. Many people slept with alarms that they would update your performance. All of you have a big role in increasing this interest towards sports and for this you all deserve congratulations.
Our athletes come from different states, diverse cultures and play different sports but the love for our nation and pride towards the Tiranga units them. pic.twitter.com/gosZYZnGdb

— Narendra Modi (@narendramodi) August 13, 2022
"It is not possible to judge our performance by the number of medals alone. Because many of our players have missed medals from very close. Somewhere there is a gap of one second and somewhere one centimeter, but in the future we will cover that too, I believe in you.
PM Modi said, 'We are strengthening those sports which have been our strength. At the same time, we are also leaving our mark in new sports. I appreciate the effort, hard work and mood of both the teams of our country for the way we are regaining our heritage in hockey.
Some more glimpses from the memorable interaction with India's athletes, who have made us proud at the 2022 CWG. pic.twitter.com/hRlTFJDVru

— Narendra Modi (@narendramodi) August 13, 2022
The Prime Minister said, 'This time we have found a way to win in four new games as compared to last time. From lawn balls to athletics, there was phenomenal performance. This will prove to be an inclination of youth in new sports. Similarly, we have to keep improving performance in sports.
He said, 'This is the beginning and we do not have to sit contentedly. The golden era of India's sports is knocking. We have to intensify our efforts. No talent should be left behind because it is the wealth of the country.
Interacted with India's contingent at the 2022 CWG. pic.twitter.com/oCdeiE4lp5

— Narendra Modi (@narendramodi) August 13, 2022
PM Modi told the players, 'Now you have the Asian Games in front of you. You prepare a lot. On the completion of 75 years of independence, I urge you to continue inspiring the younger generation of the country as role models.
Read also…
Independence Day 2022: From Milkha Singh's Commonwealth gold to Neeraj's Olympic gold, India's 8 big achievements in athletics in 75 years
CWG 2022: Indian players raised hopes in athletics, won 8 medals in Birmingham, set many records
,