Sports
Sachin retired on this day after playing 664 matches, scored 34357 runs in a career of 24 years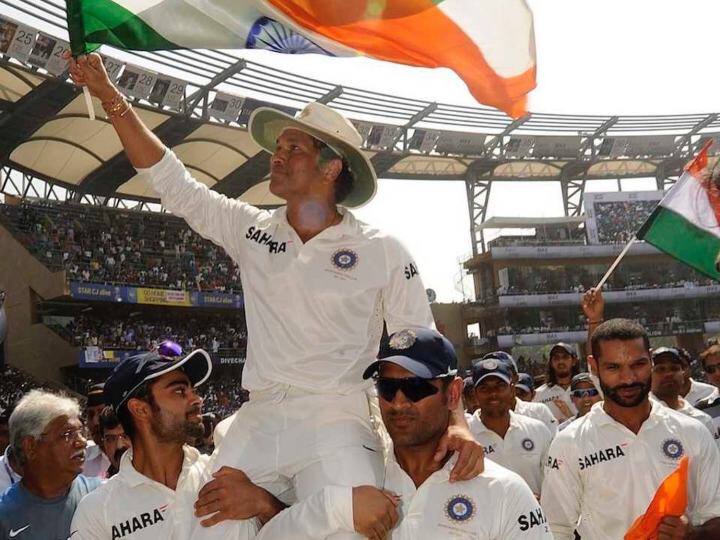 Sachin Tendulkar Team India: Sachin Tendulkar, the great player of the Indian cricket team, made many big records during his career. Sachin is the only player in the world to score 100 centuries in the history of international cricket. He played important innings many times while batting strongly for Team India. Sachin retired from international cricket on this day (16 November 2016). Read some interesting statistics related to him on this occasion…
Sachin played the first international match of his career against Pakistan in November 1989. He scored 15 runs in the first innings of this Test match played at the National Stadium in Karachi. While did not get a chance to play in the second innings. After this Sachin played 200 Test matches and scored 15921 runs. He scored 51 centuries in this format. Sachin played the first ODI match of his career in December 1989 and performed well in this too. He scored 18426 runs in ODIs and scored 49 centuries.
Many excellent records are also recorded in the name of Sachin. He is the highest run scorer in Test cricket. Along with this, he is also the player who played the most Test matches. Sachin, who is called the God of cricket, is also the player with the most centuries in Test cricket. He is the player to hit the most fours in Test format. Sachin has hit more than 2058 fours. Rahul Dravid is at number two in this matter. Dravid has hit 1654 fours. There is a huge difference between him and Sachin.
If you look at Sachin's over all career, then he is going to be surprised. Sachin has played 664 matches in a career of 24 years and scored 34357 runs during this period. Sachin scored 100 centuries. He was 'Man of the Match' 76 times. With this, he was 'Man of the Series' 20 times.
News Reels
𝘔y life 𝘁𝗲𝗶𝗶𝘸𝘸𝗶𝗶𝗶𝗶𝗶𝗶𝗶𝗶𝗶𝗶𝗶𝗶𝗶𝗶𝗶𝗶𝗶𝗻𝗶𝗶𝗻

9⃣ years since the 🥹🥹

Paltan, drop a 💙 if you were emotional just like us #OnThisDay,#OneFamily @BCCI @sachin_rt pic.twitter.com/PUGLdZAHwH

— Mumbai Indians (@mipaltan) November 16, 2022
Also read: Kane Williamson Release: Williamson became emotional after being dropped from the team, said- 'Hyderabad will always be special for me'