Sports
Video: This UAE player hit such a long six, the ball reached the roof of the stadium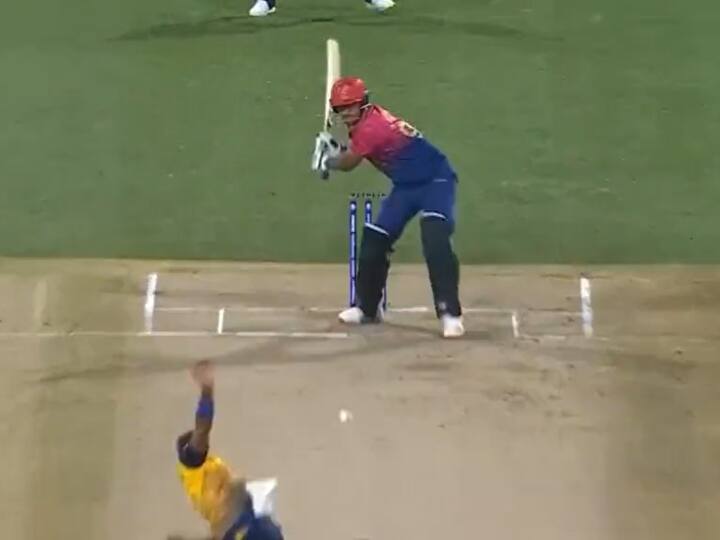 Junaid Siddique Monstrous Six: In the sixth match of the T20 World Cup 2022, Sri Lanka has won a spectacular victory against the UAE. Sri Lanka won the match by a huge margin of 79 runs. Batting first, Sri Lanka's team made a score of 152/8. Chasing the score, the UAE team was reduced to 73 runs. However, in this match, UAE's number 10 batsman Junaid Siddiqui hit such a long six during his batting that the ball fell on the roof of the stadium. The video of his six is ​​becoming increasingly viral on social media.
Junaid hit 109 meter long six
UAE's No. 10 batsman Junaid Siddiqui hit a 109m skyscraper six off Chamira in the 17th over of the match. The six was so long that the ball went straight to the roof of the stadium. At the same time, Junaid himself did not believe when the ball went so far. Let us tell you that Junaid has hit the longest six of the T20 World Cup 2022, doing a unique feat due to this six. He has reached the top of the list of batsmen who have hit the longest six in this tournament so far.
The video of this six of Junaid has also been shared by the ICC on its official Instagram account. After playing this shot, Junaid kept watching the ball till the end. At the same time, after hitting this huge six, he started looking at his muscles. Junaid scored 18 runs in his innings with the help of 1 four and 1 six.
Miyappan took hat-trick
UAE leg break bowler Karthik Miyappan has become the bowler to take the first hat-trick in the T20 World Cup 2022. He took three wickets one after the other in the match against Sri Lanka. His sharp bowling also stopped the fast pace of Sri Lanka. Sri Lanka's team, where at one time was batting fast and could reach 200, that team was restricted to just 152 runs after this hat-trick.
Read also:
Watch: First hat-trick of T20 World Cup 2022, UAE bowler stopped Sri Lanka's pace in three balls
Asia Cup 2023: Pakistan furious after being snatched away from hosting Asia Cup, threatens to leave Asian Cricket Council