Television
Ferrari worth 3.5 crores joined Ram Kapoor's convoy, the actor is fond of luxury vehicles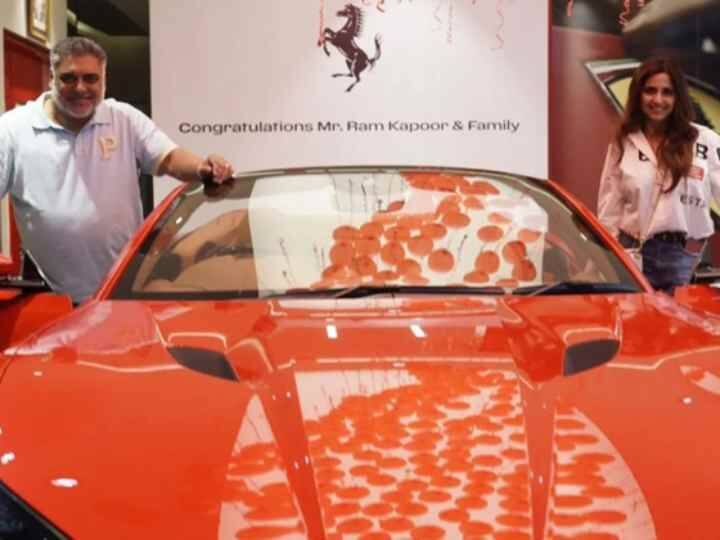 Ram Kapoor Dream Car Ferrari Portofino: Ram Kapoor, who has been seen in TV serials ranging from 'Bade Achhe Lagte Ho' to 'Kasam Se', has once again been in the limelight. Ram Kapoor has earned a lot of name not only in the TV industry but also in Bollywood. Ram Kapoor is not only known for his powerful performances, but also remains the talk of the town because of his special love for the actor's vehicles. Recently Ram Kapoor has bought his dream car. Ram Kapoor loves to ride in expensive cars. Ram Kapoor also works hard to fulfill these luxurious hobbies.
Recently Ram Kapoor has bought a Ferrari worth 3.50 crores. Ferrari recently launched 3 models out of which Ram Kapoor bought the Ferrari Portofino. Ram Kapoor had already booked this car to buy his dream car. A picture is becoming fiercely viral on social media, in which congratulations Mr. Ram Kapoor and family are seen written on the banner of Ferrari's new model. In the picture, Ram Kapoor and his wife are seen sitting on the seat of the car.
News Reels
This attachment of Ram Kapoor towards vehicles has been seen many times before. Last year, Ram Kapoor bought a Porsche 911 Carrera. The showroom price of this luxury vehicle was 1 crore 85 lakh. Along with these two vehicles, Ram Kapoor's convoy also includes many other vehicles like BMW X5 Mercedes Benz and SUVs.
Also read- Amidst the news of divorce, Rajeev Sen claimed to be in contact with Charu Asopa, now the actress told the truth