Television
Mirabai Chanu put such a condition in front of Big B, the actor gave this reaction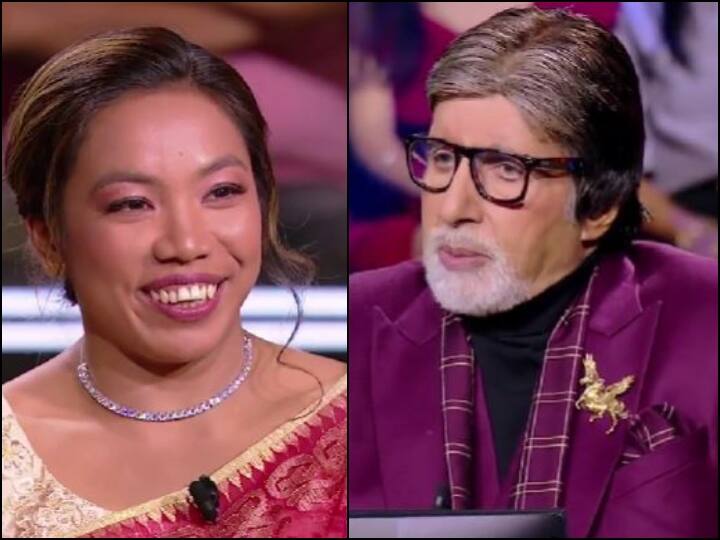 Kaun Banega Crorepati 14 Promo: Sony TV's show 'Kaun Banega Crorepati' is rocking these days with the new season. Like every year, veteran actor of Hindi cinema Amitabh Bachchan is seen sitting on the host's chair. All the episodes of the show are being liked a lot, but its upcoming episode is going to be very special, because in the show two gold medal winners for the country will participate, with whom the game will be played, as well as a lot of fun. Will be.
Two gold medalists will come in KBC 14
In the upcoming episode of Kaun Banega Crorepati 14, weight lifter Mira Bai Chanu and boxer Nikhat Zareen are going to be seen on the hotseat. Mirabai this year Commonwealth Games Won gold medal in Commonwealth Games. At the same time, Nikhat also enhanced the pride of the country by winning the gold medal in the Women's World Boxing Championship this year. Now both are going to be seen in KBC 14.
Mirabai Chanu put this demand in front of Amitabh Bachchan
Sony TV has shared a new promo of KBC 14 on Instagram account. It can be seen in the video that Amitabh Bachchan welcomes Mirabai and Nikhat to the show. During this, Mirabai asked Amitabh Bachchan to speak the famous dialogue of his film 'Agneepath'. Amitabh Bachchan's reaction on this was also amazing. He told Mirabai, "If you had not won the gold, we would say, we will not speak." After this Big B speaks the famous dialogue. His dialogue was, "I am Vijay Dinanath Chauhan, father's name is Dinanath Chauhan, village Mandwa, age 36 years 9 months 8 days and this 16th hour is on." After speaking this dialogue, he starts laughing and laughing.


read also
Krushna Abhishek will come again in The Kapil Sharma Show, said this on the quarrel with Kapil Sharma
The Kapil Sharma Show Promo: Kapil Sharma seen flirting with new girlfriend, comedy show will start from this day
,