Television
Mohit Malik was punished for flirting on the sets of Khatron Ke Khiladi, the girl made her brother by tying a rakhi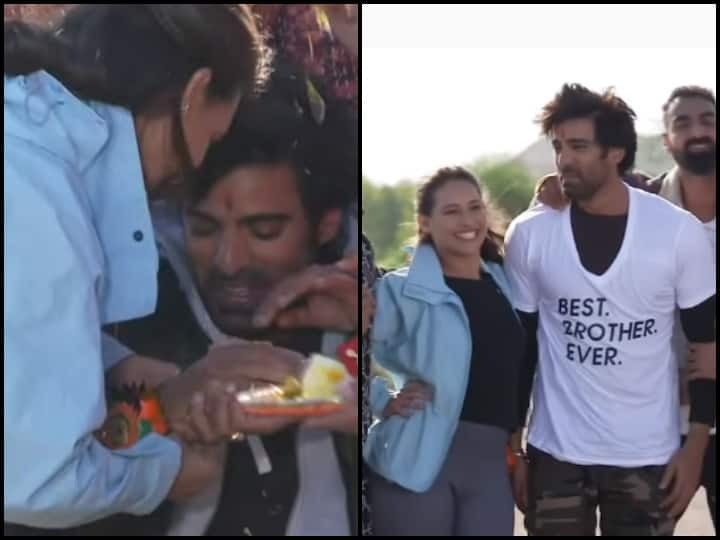 Mohit Malik In Khatron Ke Khiladi 12: The grand finale of TV reality show Khatron Ke Khiladi season 12 is going to happen soon. This time many famous actors of the TV industry are seen in the show. It includes names like Kanika Mann, Jannat Zubair, Rubina Dilek, Mohit Malik.
TV actor Mohit Malik is being discussed a lot in Khatron Ke Khiladi season 12. Mohit grabs headlines on social media because of his mischief in this show. Handsome hunk contestants Mohit is seen flirting with girls on the sets of the show. But in the latest episode of the show, Mohit Malik will have to face the bad consequences of his flirting.
Rohit Shetty did prank
Before the end of the show, Rohit Shetty has done the biggest prank with Mohit. From day one in Khatron Ke Khiladi, Mohit's heart seemed to be deluded. Mohit could not control himself seeing the beautiful girls and crew members and many times on the set he was seen flirting with the girls on the set.
Seeing Mohit's antics, his wife Aditi has also punished him, but this time Mohit's favorite physiotherapist himself has ruined all his hard work by making him his brother.
In the latest promo of Season 12 of Khatron Ke Khiladi, the host of the show Rohit Shetty was seen having fun with Mohit Malik on his habit of flirting. Mohit's favorite physiotherapist and friend were called here. Then seeing that physiotherapist, laddoos started bursting in Mohit's heart, but the girl tied Rakhi to Mohit on the pretext of giving a gift. In the promo video, the contestant and host of the show Rohit Shetty is seen laughing a lot after seeing Mohit's dreams crushed.


Let us tell you that the semi-final round is going to happen soon in the Khatron Ke Khiladi show, in which the player who reaches will be entitled to the final round. Let's see who wins the trophy of Khatron Ke Khiladi Season 12?
read this also-