World News
Cricketer Liton Das on target of fundamentalists in Bangladesh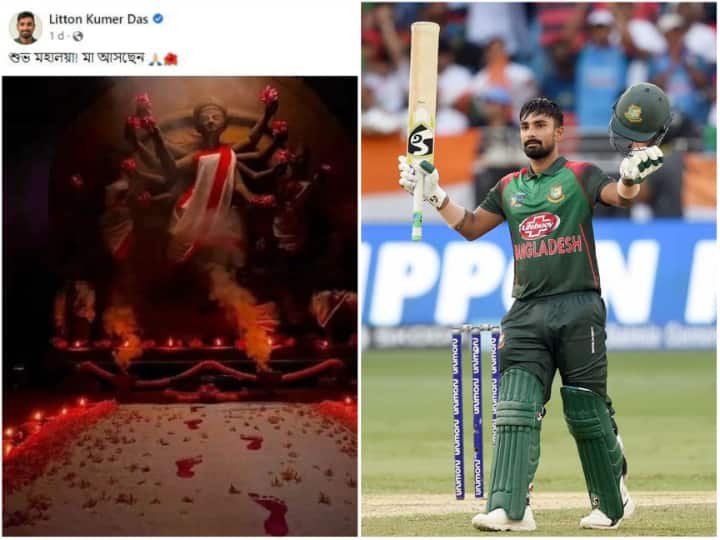 Bangladesh: The meter of Islamic bigotry is increasing continuously in Bangladesh. First the temples of Hindu deities were destroyed in Bangladesh. Now religious conversion is being forced. When Hindu cricketer Litton Das congratulated Durga Puja in Bangladesh, the fundamentalists are intimidating, threatening and pressurizing them to convert.
It happened that on the occasion of Mahalaya before Navratri, cricketer Liton Das congratulated Navratri by posting an Instagram. After that Liton came under the target of Bangladesh fundamentalists. He started commenting on the cricketer's Hindu religious beliefs and asked him to convert to Islam. Fanatics have written a lot of nonsense on the post. Fanatics in Bangladesh defamed the Hindu religious beliefs of cricketer Liton Das.
This is not the first incident in Bangladesh. Even before this, the extremists targeted the Hindu community and broke the idols. Temples were targeted but the Sheikh Hasina government of Bangladesh is neither able to stop it nor is it able to take drastic steps.
Liton Das's post stings Islamic fundamentalists
In his Facebook post, the Bangladeshi batsman shared a picture of an idol of Goddess Durga and wrote in the caption, "Subho Mahalaya! Maa Durga is coming." Soon after, fanatics came on his timeline and started abusing Liton Das for being a follower of Hinduism. Actually, according to Hindu beliefs, Mahalaya symbolizes the arrival of Goddess Durga on Earth from Mount Kailash. On his post, fundamentalists condemned idol worship. Along with this, the fundamentalists also threatened Liton Das to convert to 'one true faith' i.e. Islam.
Also read: Bangladesh: This time special arrangements had to be made in Durga Puja to stop communal violence!
Also read: Sheikh Hasina: Bangladesh PM mentions Rohingya Muslims in UN, says – serious impact on economy and security