World News
Massive 7.6 magnitude earthquake hits Papua New Guinea, 4 killed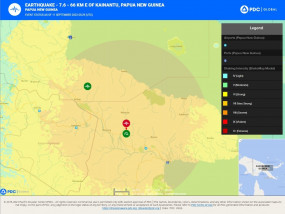 Digital Desk, Port Moresby. Four people were killed and several others were seriously injured in a massive 7.6 magnitude earthquake that struck Papua New Guinea (PNG).
The United Nations office said that one of the dead was in Rai district of Madang province and three in Wau city of Morobe province, Xinhua news agency reported. All got buried in the landslide.
According to the provincial disaster management agency, some other people in Morob were injured after a structure collapsed under rubble and damage to health centres, homes, rural roads and highways. Power grids, internet cables and regional highways have been damaged, but commercial airports are functional, the report said.
Parts of the Highlands Highway, which connects the second largest city of Lae, were damaged. The areas along Markham and Ramu in the Eastern Highlands were particularly affected. The local newspaper Post-Courier reported on Monday that many shops in Lai were closed due to the stock being wasted in the earthquake.
PNG Prime Minister James Marape said national and provincial disaster agencies have begun to assess the damage to buildings and infrastructure such as roads and power supplies.
James Marpe said the estimated cost of the damage would not be known until at least Tuesday, but assured the public that every effort would be made to restore our services and people's livelihoods.
PNG is one of the most geologically and seismically active regions in the world and is usually hit by more than 100 earthquakes of magnitude 5 or greater every year.
IANS
Disclaimer: This is a news published directly from IANS News Feed. With this, the team of bhaskarhindi.com has not done any editing of any kind. In such a situation, any responsibility regarding the related news will be of the news agency itself.