World News
Self-driving bus used in South Korean, people told their experience in the trial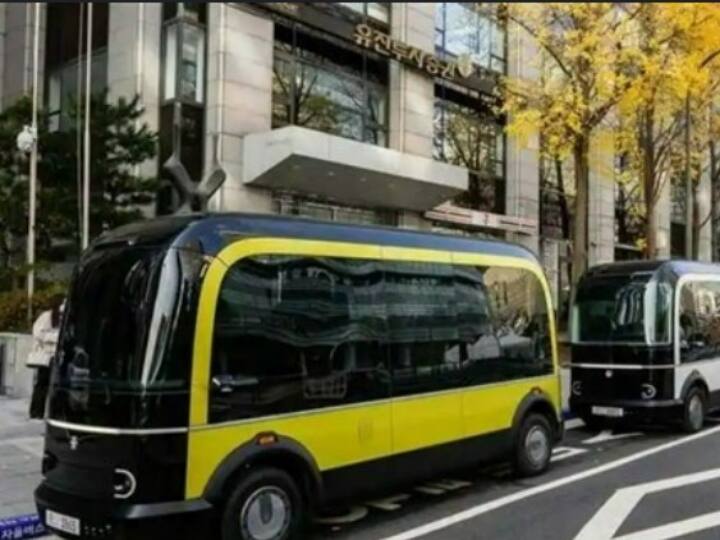 Dakshin Korea Driverless Bus: A self-driving bus was recently trialled in the capital of South Korea, which was part of an experiment. In this regard, the engineers said that the purpose of the self-driving bus is to make people feel more comfortable with driverless vehicles on the road. The new bus does not look like a normal bus. It is rounded at the edge, has big windows which looks like a toy.
The self-driving bus is not like a normal bus, as it is completely systematic, has rounded corners, wide windows. It looks like it is more of a toy than just a mod. This self-driving technology was developed by 42 Dot, which is now owned by South Korean conglomerate Hyundai. Jeong Seong-gyun, head of self-driving at 42 Dot, says the design is intentional.
how's the bus going
Seong-Gyun said, this bus uses cameras and radar to navigate the way instead of expensive sensors. The company's goal was to create a technology that was low-cost, safe and easily transferable to many types of vehicles in the future. For example, delivery trucks. Currently, the self-driving bus is being closely monitored by a safety driver.
News Reels
people in the trial tell your experience
After booking a free seat in the self-driving bus through an app, the public here can board at two designated stops. After a ride on the bus on Friday, 68-year-old Kim Yi Hae-ran said, "I feel like I've jumped into a time machine to travel to the future. I thought it might make me dizzy at the sudden speed." But I didn't feel anything like that."
Seoul is getting its first self-driving bus.

During an experimental phase, a safety driver will closely monitor the bus as it drives itself around a small 3.4-kilometre (2.1-mile) circuit in the downtown area of ​​South Korea's capital.

➡️ https://t.co/66k7KwBuWv pic.twitter.com/btP7ENVDvE

— AFP News Agency (@AFP) November 26, 2022
Also read: Belgium Riots: Violence erupted in Belgium after defeat from Morocco, protesters set fire to car-scooters