World News
Shahbaz Sharif seen as non-performing PM of Pakistan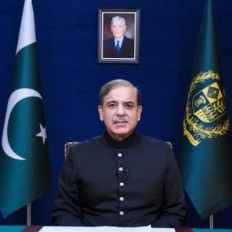 Digital Desk, Islamabad. Shahbaz Sharif is known for his governance and administrative skills. But as the Pakistani prime minister, he seems to have failed to make an impact among the people. According to The News report, while former prime minister Imran Khan is openly criticizing Sharif, many in the ruling coalition and related sectors are also surprised. That is why Shahbaz is not able to perform well.
The service delivery of government departments under the jurisdiction of the Federal Capital Territory is as disappointing as ever. According to The News report, during his tenure as the Chief Minister of Pakistan's Punjab, Shahbaz had a strong hold on the bureaucracy, but things are not under his control at the Centre. According to one of Shahbaz's close aides, the prime minister's main focus has been on the economy, for which no specific steps have been taken so far. The surprising thing for many people is that even after the IMF deal, the economy is getting worse instead of getting better.
The News reported that a key economic leader in the Shahbaz government was asked about the reasons for the unexpected increase in the dollar rate despite the IMF deal, he was unable to answer why it was happening and how to prevent it. Go. According to a source, Shahbaz has recently tasked former prime minister and senior PML(N) leader Shahid Khaqan Abbasi to formulate a strategy to improve governance and service delivery in government departments. It is said that Abbasi will present his reform strategy for implementation to the prime minister when he is ready.
With his experiences in Punjab, Shahbaz took power as Prime Minister. Announced the implementation of a one-dish policy for weddings in Islamabad, but reports of its violation started coming to the fore. The special thing is that most of the news came from Punjab province, whose chief minister was Shahbaz. There has also been no improvement in public dealing in federal government departments.
It is said that Shahbaz Sharif took over as the Prime Minister during difficult circumstances, when the economic conditions were very weak. It is more dependent on the ruling coalition. However, there is no explanation available as to what is stopping the prime minister from improving bureaucratic performance and ensuring government writs, especially in matters that are sensitive to the country's economy.
(IANS)
Disclaimer: This is a news published directly from IANS News Feed. With this, the team of bhaskarhindi.com has not done any editing of any kind. In such a situation, any responsibility regarding the related news will be of the news agency itself.