World News
Talks with Russia impossible at present: Zelensky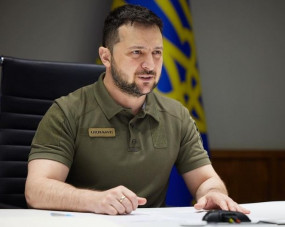 Digital Desk, Kyiv. In a panel discussion during the Yalta European Strategy Annual Meeting, Ukrainian President Volodymyr Zelensky insisted that it was impossible to negotiate an end to the war with Russia because it failed to state its position.
He said that we want to end the war, but our circumstances and capabilities have changed. Our people do not want to negotiate with terrorists. However, one can communicate with them if they want, because at least they will know what they want.
Zelensky emphasized that there is no confidence that the Russian side will fulfill any of the promises it made. "I think they won't," he said. No one believes (that they will). You don't want to deal with them. The president said that before diplomatic talks with the Russian Federation were possible, the Russian military would have to withdraw from Ukraine and stop treating Russia as a terrorist.
Finally, Zelensky said, we must demonstrate our political will, to open a channel of diplomatic communication with (Russia), that they are ready to give back the land that does not belong to them. Then we can start talks that can open up to diplomatic measures.
Disclaimer: This is a news published directly from IANS News Feed. With this, the team of bhaskarhindi.com has not done any editing of any kind. In such a situation, any responsibility regarding the related news will be of the news agency itself.